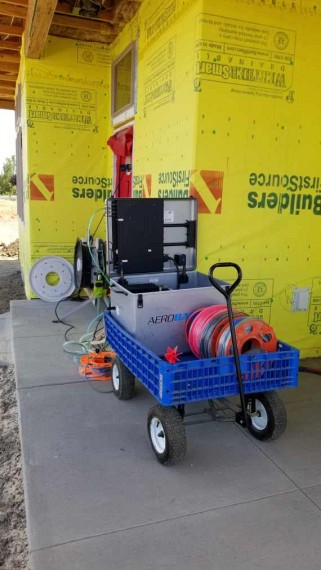 Just part of the computer controlled system.
Sure, nothing is wrong with sealing your home the old fashioned way with cans of spray foam, sealant and caulk.
However they can never get to those hard to reach out of sight areas where air can travel back and forth through the home.
As we say - Your home should be a Joy to Live in and a Pleasure to own.
We take the extra time to controll your comfort and the quality of the air in your home.
And as an added benifit, you can even save on your heating and cooling costs too!
Spray heads are setup through out the home to spray the Ultra Low VOC Sealant - You will Appreciate this!!
And now the Sealant is sprayed and forced into any gaps and starts to build upon itself and fill all those air leaks.
Watch a short video of the AreoBarrier be sprayed here.
To Start or Stop Video Click on the Image here
Double Click to View Full Screen - Then Press Esc key to exit Full Screen