720 NW Rimrock Drive Redmond Oregon
Here we are showcasing some of the progress highlights for our new moderized prairie style home ? located at 720 NW Rimrock Drive in Redmond.
The home is located off NW 19th between Hemlock and Fir.

Follow along and keep an eye on progress if you can not see it for yourself.
You may also view our Custom Home Page for all the details.
Excavation Time
Push out has started and fortunately we did not have to pound out any rock for the foundation. The general footprint of the home can now be visualized.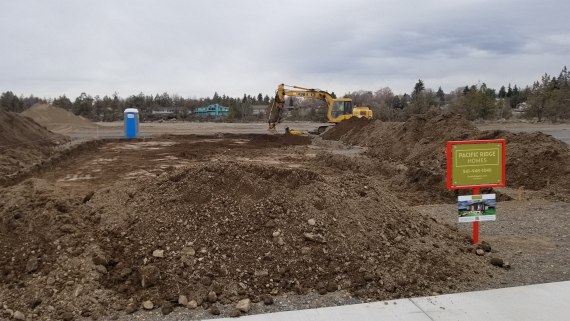 Ready - Set - Go
Get ready to build!
After months of design and preparation awaiting for Phase 9 in Canyon Rim Village to become available, we are ready to go. Pacific Ridge Homes is pleased to announce this Custom New Home in Redmond, Now Available for Pre-Sale. A spacious single level home with a comfortable 1761 square feet. Please continue to revisit our blog and catch a little more detail as to how construction is progressing. Of course, you may view the specs and renderings of our custom home on our Custom Homes page.